Diverse Portugal
The coastal nation of Portugal has a variety of landscapes, climates and gastronomy and my fascination of this country's food and wine culture began just over 30 years ago when I first moved to my new life of living in a small northern Portuguese village. I have seen many changes happening over the years and today I am happy to say that there is increased recognition internationally of the food and especially the wines however, despite these developments, tradition still plays a very important role in the day to day life of the people.   It was from this point on that my journey of love for the food, wine and culture of Portugal began.
There is an incredible variety of foods and wines in Portugal and over the years it has never ceased to amaze me how all the regions throughout the country have their very own distinctive and different styles.  Drive through the backroads of Trás-os-Montes and Alto Douro, Minho, Beira Interior or Alentejo and you will come across some proudly presented gastronomic surprises which make up an important part of the heritage.   
Of course wine has always been part of the Portuguese culture but for a small country it makes an astonishing variety of wonderful wines coming from north to south including the islands of Madeira and Pico (Azores).  With the perfect terroir plus an incredible variety of indigenous and international grapes, all matched with modern viticultural and winemaking skills, Portugal is now seen as one of the world's leading wine producers.  Yet although modernization has come, again tradition still remains.  In the north, you may well be served at your local 'Tasca' (restaurant/bar) a Vinho Verde red wine in a bowl called a 'malga' accompanied by a delicious array of tapas from the region!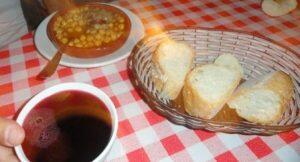 Portuguese Olive Oil
One hidden treasure forming the basis of Portuguese cuisine is Olive Oil.  The tradition and culture of Olive Oil runs deep in Portugal and although production is quite small, internationally the oils are now considered to be some of the best in the world.  Be it dribbled into soups, sprinkled over baked jacket potatoes or simply used to dunk your bread in, there is a whole new trend and focus on selective and quality olive oil production with small and large producers planting new olive groves and using the latest in extraction technology. 
Portuguese Sausages
Portugal also has one of the most richest and varied tradition of smoked sausages to satisfy all palates.  The choice can sometimes be overwhelming but rest assured local people are quick to explain these delicacies which are often served as tapas with a glass of white or red wine.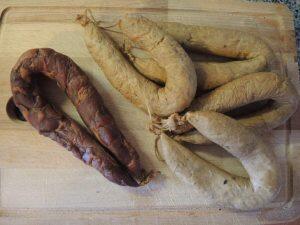 Portuguese Soup
I cannot help but mention the Portuguese soup as one of the daily staples as starters to meals.  Nourishing and delicious, they are difficult not to try and one very well-known one, is 'Caldo Verde' (kale soup).  A deliciously simple and basic potato and onion purée which is given added flavor by a 'chouriço' (smoked sausage) and 5 mins before serving has very finely sliced kale added to it.  The soup is served with the kale 'al dente', accompanied by the delicious 'Broa' (cornbread) and is guaranteed to warm the cockles of your heart at any time of the day!  An aromatic and fresh Alentejo white is the perfect complement to this starter.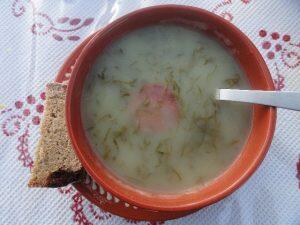 Chourico
Where would one find a delicious and satisfying, 'chouriço' flavoured, chicken and rice dish served in the pot that it has been cooked in!  A popular and simple picnic dish used more in the countryside, once the cooking is over, the pot is wrapped in several layers of newspaper all secured tightly in a larger cloth to maintain the heat and facilitate transport.   My experience with my work over the years has given me the opportunity to share and enjoy this dish with many people who delight in seeing all the layers being peeled off to reveal a beautifully presented pot of chicken and rice.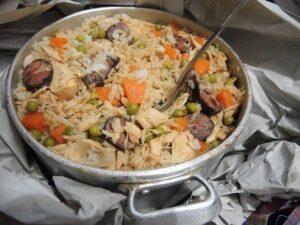 Bacalhau
One of Portugal's most iconic ingredients is Bacalhau (salt-cod) with recipes that have diversified and evolved over time and which today is reputed to have over 365 ways of preparation.  It is consumed as much as twice a week in many households and in particular is the national dish at Christmas Eve for dinner.  There are some absolutely delicious Bacalhau recipes and my favourite is 'Bacalhau com Natas' (codfish in cream sauce).  Being a strong flavoured fish, a fresh, well-structured and balanced Douro DOC Red wine is my favourite match to this dish.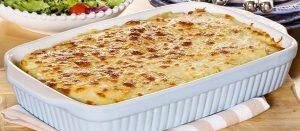 Sweet things
Portuguese patisserie is unmistakably some of the best in the world.   They are specialists in cakes called 'Doçes Conventuais' being mostly composed of large amounts of sugar and egg yolks.  Prior to the 15th Century, the use of sugar was ostensibly a sign of wealth and taste and was rarely used in cooking but more for medicinal purposes.  It wasn't until the discovery and colonization of Brazil and Madeira that sugar cane was grown abundantly and from there began a 'sugar culture' where it entered into the gastronomic tradition of monasteries and convents.  From this trend stemmed the huge variety of modern day cakes and desserts that can be seen today in cake shops around the country.   Try pairing these with a Tawny Port or Moscatel for the perfect match.
Finally to close the gastronomic circle is the diversity of cheeses that are available many of which carry the Denominação de Origem Protegida (D.O.P.) guarantee to mark the traditional method and ingredients that are used in their production. From stinky and creamy to semi-hard and tangy, they all come from sheep, goat or cow's milk or a blend and are a special treat at the end of the meal.  Full bodied reds or Vintage Ports are the best pairing for them.
It is impossible not to fall in love with this beautiful country, its people, history and culture and I will continue my journey in discovering all that there is to offer.