My first trips to France as a teenager invariably led me to the door of Yves Tailleur, my charming French uncle who'd married my father's younger sister Mary. His Parisian cellar was a magical place, cobwebs and shadows hiding an unpredictable array of fine and unusual wines, from the best champagnes to rarefied cognacs, an earthy selection of southern reds all dancing around the finest Bordeaux reds that had pride of place. All the greats were there but I can't remember ever seeing a bottle of Burgundy there, for Yves was from Bordeaux.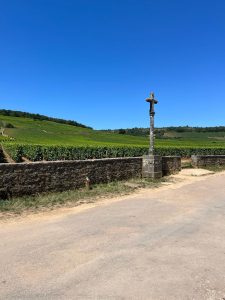 Domaine de la Romanée-Conti (DRC)
Sadly Yves is no longer with us, his final illness prompting him to start drinking Burgundy as claret gave him a headache, a point at which we knew something was up. In honour of Yves then, we at Iberian Wine Tours have taken our time to turn our attention to Burgundy, but a few long lunches with Raymond Blake in Dublin then led us to Burgundy, which as it turns out is also the world's wine capital. It's a very special place.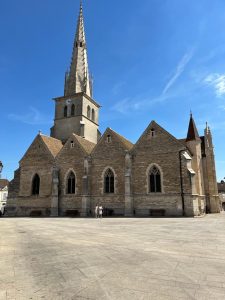 Meursault
Burgundy is just about unique in the fine wine world (perhaps our Napa friends would disagree) in being equally renowned for its red and white wines. It's unquestionably the world's favourite place for the very best pinot noir and chardonnay and the most hallowed vineyards all sit a gentle and gorgeous drive away from Beaune. It's glorious and it's all within easy reach. Beaune itself is that charming regional French mix of traditional architecture, enticing restaurants underpinning a fascinating history that is best understood through the wines. The Hospices de Beaune was a charitable almshouse in the Middle Ages, a historic national monument that hosts the most famous wine auction of all each year in November to great pageantry and fanfare.
The Cote d'Or is the epicentre of the glory and mystique of Burgundy, split into the more expansive pinot dominated hills of the Cote de Nuits to the north and the gentler slopes of the Cotes de Beaune to the south.
All the great names are to be found as you stumble from Nuits St Georges to Gevrey Chambertin through Vosne Romanee on the one side and from Pommard through Meursault to Puligny Montrachet on the other.
The vineyards can be expansive but you're breathing the most rarefied vine air here in the most prized plots on the planet.
Raymond Blake is a wonderfully engaging and well connected host, taking us through some of the best loved cellar doors in the region and introducing us to wines and hosts that explain why this terroir can make wines like no others. As always, terroir can be explained through soils, orientation, suitable variety clones and microclimates but there's an element of the magic that is unspoken and ethereal. A long history and a rivalry with the Champagnois resonates deeply here too, the Burgundians as defined by their neighbours as we all are.The Drouhin have as great a story to tell as anyone.
Of course, you mustn't ignore the fabulous wines from the rest of Burgundy, silver to match the Beaune fringed gold in the gorgeous village of Chablis, in the Cote Chalonnais, the Maconnais and the stunning villages of Beaujolais.   
So, no we make no apologies to the late Yves Tailleur. We love Bordeaux and we love Burgundy too.